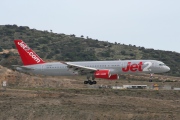 Emergency diversion of Jet2.com with Boeing 757-200 (Reg: G-LSAA) in Athens due height loss after rapid depressurization. 3 people hospitalized with damage to ears.
The captain did initially declare an emergency but a few minutes before the landing, he said that there were no further problems and it was going to be a normal landing.
Aviation photo of Jet2.com, Boeing 757-200 with registration G-LSAA (CN: 24122) at Eleftherios Venizelos Airport, Athens, Greece from Konstantinos Zervos. See
medium
and
large
photos at
www.airpics.net
.